Incandescent, Flashing FF 98SF Series Beacon, Base Mount, 12 V dc, 24 V dc
RS-stocknr.

405-5082

Fabrikant

Moflash

Fabrikantnummer

FF98SF-DCRS
Productomschrijving
Flashing Filament Automotive Beacon
Magnetic base or permanent Fix
Internal dioptric lens to enhance visual light by 20%
'UV' Stable polycarbonate domes

Let op:
Lens and bulb must be ordered separately. Conforms to Civil Aviation Authority 'CAP 168' requirements for vehicle obstruction lights when fitted with amber lens stock no. 286-9025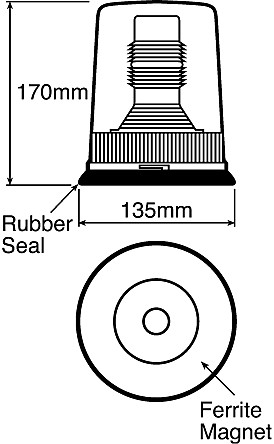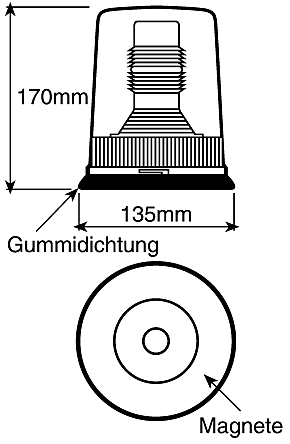 Filament
Specificaties
Selecteer de filters die u nodig heeft om een soortgelijk product te vinden.
Supply Voltage
12 V dc, 24 V dc
Light Effect
Flashing
Lens Colour
Lens Not Included
Mounting Style
Base Mount
Bulb Type
Incandescent
Current Type
DC
Base Diameter
135mm
Series
FF 98SF
Height
170mm
tijdelijk niet op voorraad – nieuwe voorraad verwacht op 26-06-2017, met een levertijd van 2 à 3 werkdagen.
Datasheets
RS Components

Verklaring van overeenstemming

Dit certificaat bevestigt dat het product hieronder in overeenstemming is met de momenteel door RS Components gepubliceerde specificaties en aan de voorwaarden van de kwaliteit van onze registratie naar de norm NEN-EN ISO9001:2008 beheer onderworpen is geweest. Indien van toepassing biedt het de zekerheid dat alle elektrostatische ontlading gevoelige apparaten zijn behandeld en verpakt onder voorwaarden die voldoen aan de administratieve en technische vereisten van de ANSI/ESD-S20.20:2007 en de NEN-EN 61340-5-1:2007 elektrostatische controlenormen.

| | |
| --- | --- |
| RS-stocknr. | 405-5082 |
| Omschrijving | Incandescent, Flashing FF 98SF Series Beacon, Base Mount, 12 V dc, 24 V dc |
| Merk | Moflash |
| Fabrikantnummer | FF98SF-DCRS |

De voorgaande informatie heeft betrekking op producten die zijn verkocht op of na de datum die hieronder wordt weergegeven.

RS Components

RS Components, Bingerweg 19, 2031AZ, Haarlem
Mogelijke alternatieven voor Incandescent, Flashing FF 98SF Series Beacon, Base Mount, 12 V dc, 24 V dc