Uitgelichte producten
Oplossingen voor duurzame energie
Een complete set componenten om uw zonne-energie oplossingen te bouwen.
Verlichting
Zeer efficiënte, energiebesparende verlichtingsoplossingen: van schijnwerpers tot werklampen en noodverlichting.
Zaklampen
Draagbare of hoofdzaklampen en inspectielampen zijn een must op de werkplek. In standaard en onverwachte omstandigheden.
LED-lampen
Een ruime keuze aan LED-lampen met verschillende spanningen en IP-waardes. Ook verkrijgbaar in dimbare versies.
UPS
Houd uw bedrijf draaiende en uw stroom ingeschakeld met de Uninterruptible Power Supplies van RS PRO.
Veiligheid op het terrein
Zorg voor de veiligheid van uw omgeving, zelfs in extreme omstandigheden. Leg een voorraad noodsignalen, verkeerskegels en waterkering aan.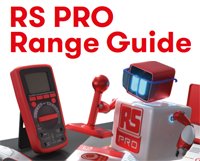 Overzicht RS PRO producten
Begrijp snel wat RS PRO te bieden heeft
Navigeer rechtstreeks van de gids naar het productassortiment
Download uw exemplaar en bewaar het als naslagwerk
Energie-efficiënte oplossingen
Volg onze RS PRO-BOT terwijl hij door de ruimte rolt en componenten optimaliseert, vervangt en verbetert om een energie-efficiënte oplossing voor uw industrie te creëren.
Energie-efficiëntie productgids
Vind energie-efficiënte oplossingen voor uw omgeving of toepassingen
Ontdek kosten- en energiebesparingsopties
Download en bewaar onze digitale gids voor toekomstig gebruik
RS PRO keurmerk
Gecontroleerd, voldoet aan alle industrienormen
Geïnspecteerd voor gegarandeerde kwaliteit en prestaties
Getest door vooraanstaande ingenieurs
Ontdek RS PRO kwaliteit
Gecontroleerd, geïnspecteerd en getest. Een RS PRO product worden is niet zo eenvoudig. Maak een uitstapje naar onze kwaliteitslaboratoria met RS PRO BOT!
Key ranges available from RS PRO