RS-stocknr.:

114-8333

Fabrikantnummer:

09330242701

Fabrikant:
Bekijk deze categorie
---
Sorry, we konden onze voorraadniveaus nu niet controleren. Probeer de pagina te vernieuwen.
| | |
| --- | --- |
| Aantal stuks | Per stuk |
| 1 - 9 | € 30,14 |
| 10 - 24 | € 28,93 |
| 25 + | € 27,75 |
RS-stocknr.:

114-8333

Fabrikantnummer:

09330242701

Fabrikant:
Productomschrijving
Han E® Inserts
• Poles: 6-48 (screw connection – wire csa 2.5mm²
• The 32 and 48 pole versions require two contact inserts per connector half; a standard insert numbered '1 to 16' or '1 to 24' pole insert (m) or (f) together with one numbered '17 to 32' or numbered '25 to 48' insert (m) or (f).
• These are identified in the price table - e.g. 32P + E (17 – 32)
Warning
These connectors should not be mated or unmated under electrical load. Connectors of the same or different types arranged in a line should be polarised to prevent the possibility of wrong connection.
Approvals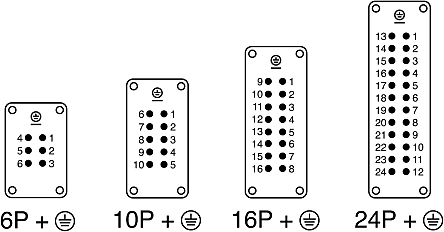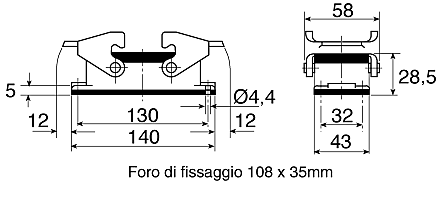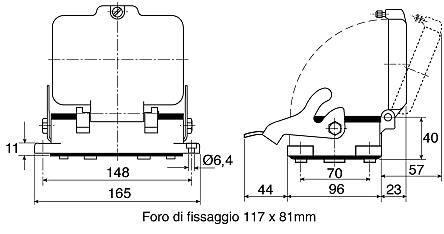 09330242701 Han E Insert for 16 A Heavy Duty Power Connector
From Harting, this Han E Series insert is for use in 16 A heavy-duty power connector assemblies. With 24 positions, this insert has robust screw termination for wire sizes of up to 14 AWG. The insert is only compatible with corresponding Han E power connector components.
Featuring connecting M3 screws, the female insert is easy to incorporate into Han E housings, assembling to form a secure and robust heavy-duty power connector.
09330242701 Features:
24 pole female insert
Size 24 B
Screw termination from 18 AWG to 14 AWG
Compatible with 16B size housing and hood
Rated to 16 A and 500 V
Mechanical working life of ≥ 500 mating cycles
Contact resistance of ≤ 1 mΩ
Stripping length 7.5mm
Polycarbonate (PC) material (insert)
Colour RAL 7032 (pebble grey)
Material contacts: Copper alloy
Surface contacts: Silver plated
Material flammability UL94 V-0
Conductor cross section 0.75 to 2.5 mm²
Specifications:
EN 60664-1
IEC 61984

Product Application Information

Harting industrial connectors are suitable for all applications that require a safe and removable electrical connection in protected electrical areas. Inserts can be used with hoods and housings or for rack and panel applications.
Approvals
DNV GL
UL 1977 ECBT2.E235076
UL 2237 PVVA2.E318390
CSA-C22.2 No. 182.3 PVVA8.E318390




These Han E® inserts are rated at 16A. They are intended for use with hoods and housings. All these hoods and housing ranges are associated to a specific Harting 'Size' number identifier. See the 'compatibility' table for details of this relationship, and stock numbers of hoods and housings that are typical of each range.
---
Specificaties
| | |
| --- | --- |
| Kenmerk | Waarde |
| Current Rating | 16A |
| Gender | Female |
| Series | Han E |
| Type | Connector Insert |
| Termination Method | Screw |
| Pole Format | 24P+E |
| Number of Rows | 2 |
| Voltage Rating | 500 V |
| Number of Contacts | 24 |
| Minimum Wire Size mm² | 0.75mm² |
| Maximum Wire Size mm² | 2.5mm² |
| Contact Material | Copper Alloy |
| Contact Plating | Silver |
| Thread Size | M3 x 10 |
---