2 Output Toroidal Transformer, 225VA, 2 x 18V ac
RS-stocknr.

223-8825

Fabrikant

Nuvotem Talema

Fabrikantnummer

0225P1-2-018K
Productomschrijving
Encapsulated with Leads 230Vac Primary Transformers
High quality encapsulated toroidal transformers with a single 230Vac 50/60Hz primary winding. Twin secondary windings may be connected in series or parallel or used independently. Designed for easy mounting with centre hole fixing.
Fixing bolt not included
Fully encapsulated to UL94-V0
Case material meets UL94-V0, Nylon 6.6
Small size and low weight compared with traditional stacked lamination types
Extremely low level of radiated magnetic field
Very low induced noise (hum)
Very low iron loss
Double insulated primary leads
Low surface temperature
100% electrical and flash tested
High quality manufacturing and testing in accordance to EN61558, EN60950, EN60065, VDE0551, VDE0550 and BS415
| | |
| --- | --- |
| Leads | PVC insulated 150mm long, 10mm stripped and tinned |
| Secondary voltage tolerance | <1% at nominal input and full load |
| Maximum ambient operating temperature | + 40°C |
| UL recognised for insulation | Class A (105°C) |
| EN61558 Approved to insulation | Class E (120°C) |
| Case material | UL94-V0, Nylon 6·6 |
Standards
UL94-V0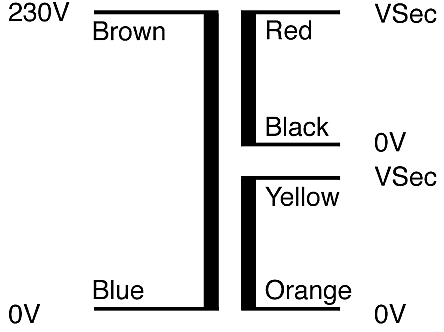 Approvals
VDE 0551; VDE 0550
Standards
EN61558; EN60950; EN60065; BS415
Toroidal Encapsulated 230Vac Primary 15VA to 500VA
Under no circumstances should both ends of the fixing bolt simultaneously contact the metal chassis or framework as this would create a potentially dangerous 'shorted-turn'.
Specificaties
Selecteer de filters die u nodig heeft om een soortgelijk product te vinden.
Primary Voltage Rating
230V ac
Secondary Voltage Rating
2 x 18V ac
Power Rating
225VA
Number of Outputs
2
Secondary Current
6.25A
Height
47mm
Weight
2.3kg
Diameter
112mm
Dimensions
125.8 (Dia.) x 52.4mm
Fixing Hole Diameter
M6
7 op voorraad - levertijd is 2 werkdag(en).
Datasheets
RS Components

Verklaring van overeenstemming

Dit certificaat bevestigt dat het product hieronder in overeenstemming is met de momenteel door RS Components gepubliceerde specificaties en aan de voorwaarden van de kwaliteit van onze registratie naar de norm NEN-EN ISO9001:2008 beheer onderworpen is geweest. Indien van toepassing biedt het de zekerheid dat alle elektrostatische ontlading gevoelige apparaten zijn behandeld en verpakt onder voorwaarden die voldoen aan de administratieve en technische vereisten van de ANSI/ESD-S20.20:2007 en de NEN-EN 61340-5-1:2007 elektrostatische controlenormen.

| | |
| --- | --- |
| RS-stocknr. | 223-8825 |
| Omschrijving | 2 Output Toroidal Transformer, 225VA, 2 x 18V ac |
| Merk | Nuvotem Talema |
| Fabrikantnummer | 0225P1-2-018K |

De voorgaande informatie heeft betrekking op producten die zijn verkocht op of na de datum die hieronder wordt weergegeven.

RS Components

RS Components, Bingerweg 19, 2031AZ, Haarlem
Mogelijke alternatieven voor 2 Output Toroidal Transformer, 225VA, 2 x 18V ac